Handing over of Water and Sanitation Facilities
Handing over of Water and Sanitation Facilities to rural Schools and Villages in Dehiattakandiya, Jaffna, Anuradhapura & Padiyatalawa 
Tarana Foundation in collaboration the German Embassy of Colombo and the support of relevant Officials have successfully concluded WASH (Water, Sanitation and Hygiene) Projects in Dehiattakandiya, Jaffna, Anuradhapura and Padiyatalawa for the year 2020.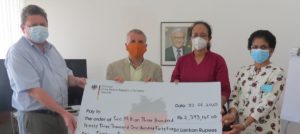 We are grateful to the German Embassy for funding this MICRO project and for partnering and placing confidence in our ability to see this project through within the targeted timelines.
We also sincerely thank all who partnered with us to make this a reality to bring clean water and sanitation facilities to rural areas in Sri Lanka.